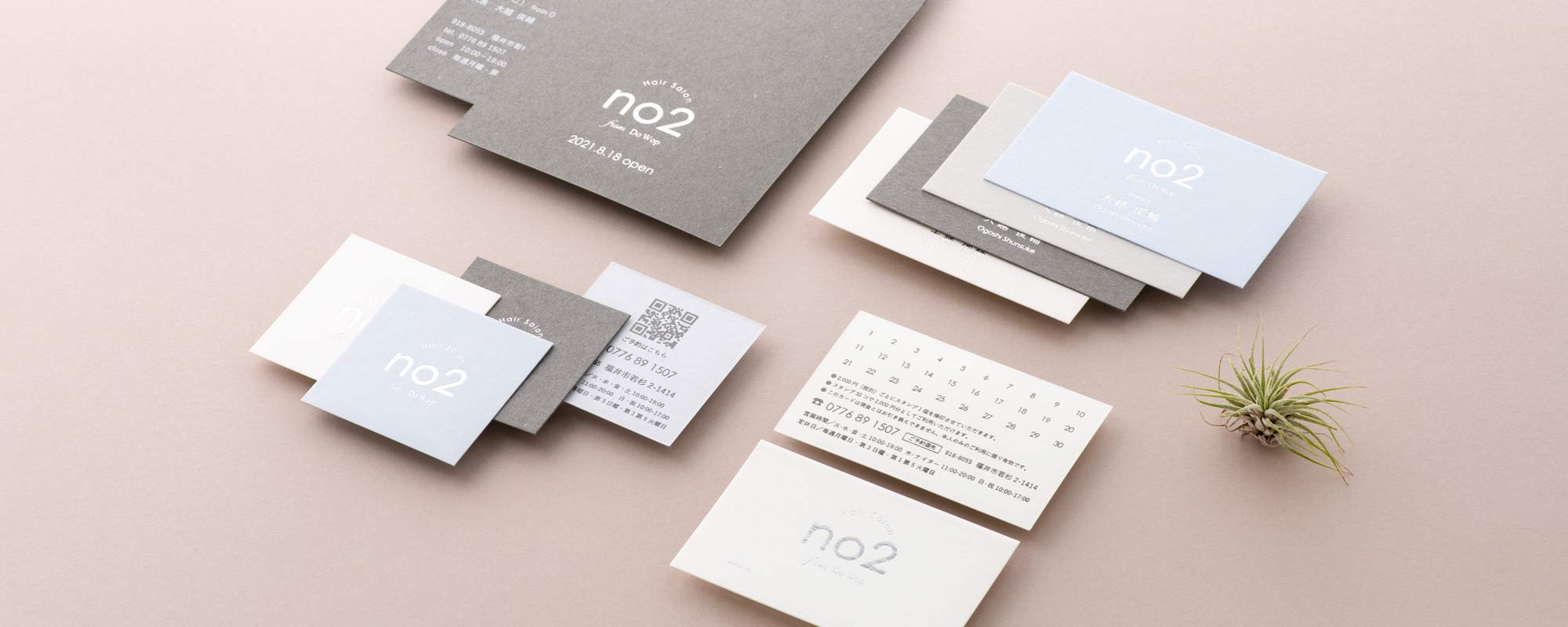 What's ASADAYA?
ASADAYA is a foil-printing specialty store in Fukui, offering high quality and stylish business cards to order mainly on the Internet. You can make an order with confidence, an English-available operator
accepts your request for foil-print business cards or its envelopes. (※Please note a case of absence.)Having your choice of a design, and contact us from the inquiry form.
[ Fukui Prefecture ]
Fukui Pref. is in Hokuriku area, on the side of the Japan Sea neighboring to Kanazawa (Ishikawa Pref.) and rich in nature with mountains, rivers and the sea. It is famous for Echizen-gani(a branded snow crab) and Tojinbo(one of the greatest sea cliffs in Japan). In Japanese history, Fukui is the oldest paper producing region, and has the only shrine in Japan which enshrines a god of "washi" (Japanese paper).
Asadaya is a small, country company with foil-printing artisans in such a prefecture.
Besides a variety of fancy paper, we also have some kinds of "washi" making full use of such characteristics of our region. Please check out our particular products.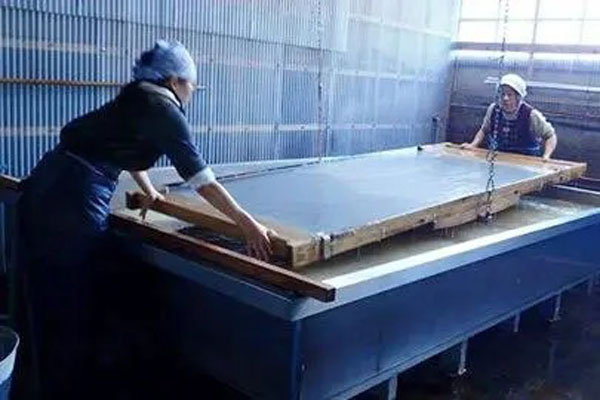 To Make Foil-Press-Printed Business Cards
Beautifully designed, foil-printed business cards must be yours. Foil-Press-Printing is a particular print to transcribe by heating foils(gold, silver etc.) You will see such works on invitation cards or greeting cards. In ASADAYA, our artisans print such things by hand, piece to piece.
We make out a metal plate (called "han" ) for your design, and heat the plate to press foil. Once you make "han" , we keep it for 2 years. If you order the same in the 2 years, we can use your "han" again, so you will have some discount.
How to Design
We have two patterns to design.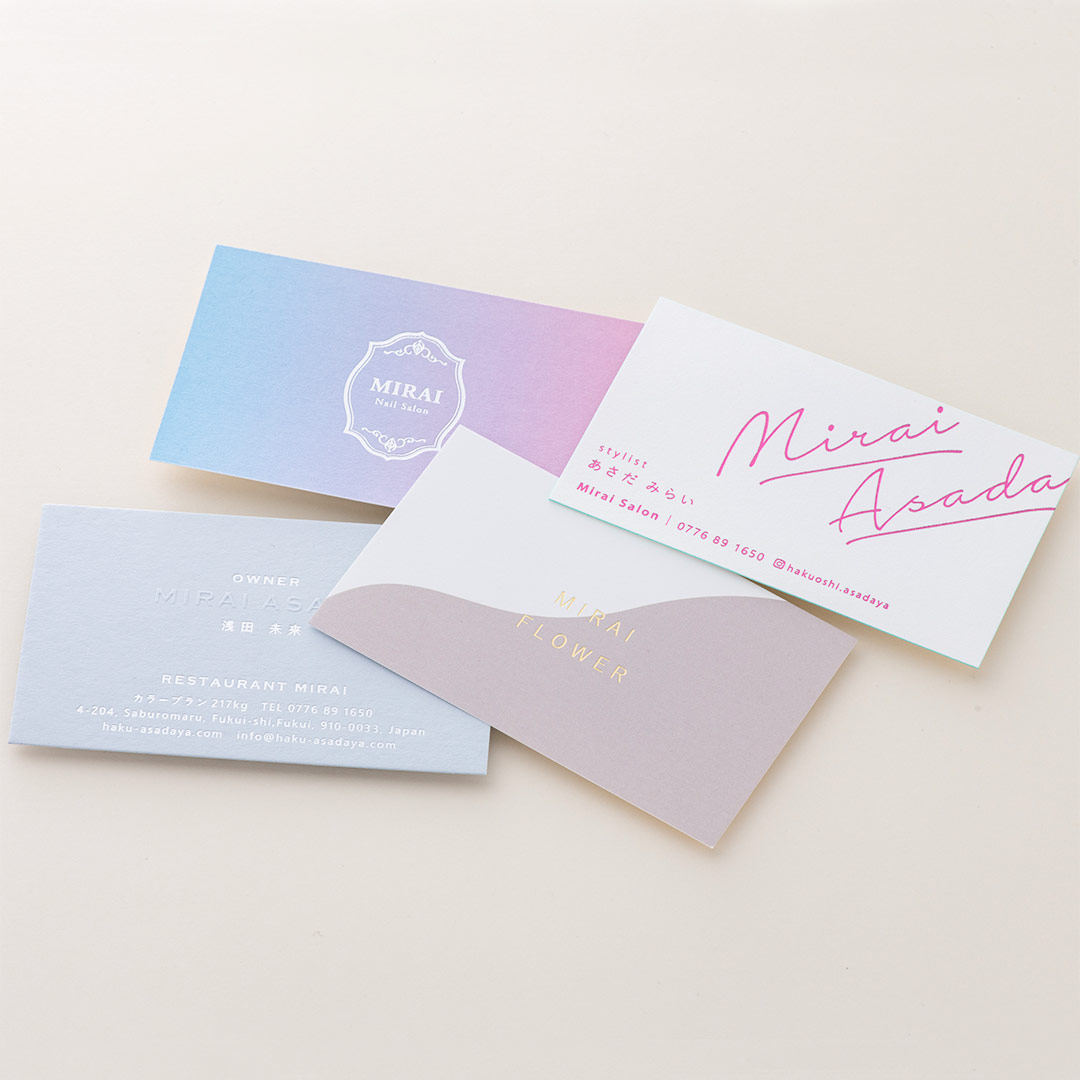 1. Easy Order
Easy Order is ASADAYA's service to offer you card designs in your place.
You can check out the designs to choose from the URL below.
If you find your favorite template, contact us from our inquiry form. Remember to keep its picture or URL. It will be really helpful when the card design gets started.
You can change the color of paper and foil. Feel free to ask us.
Free revisions are available up to two times. If needed more, it costs 1000 yen + tax per time.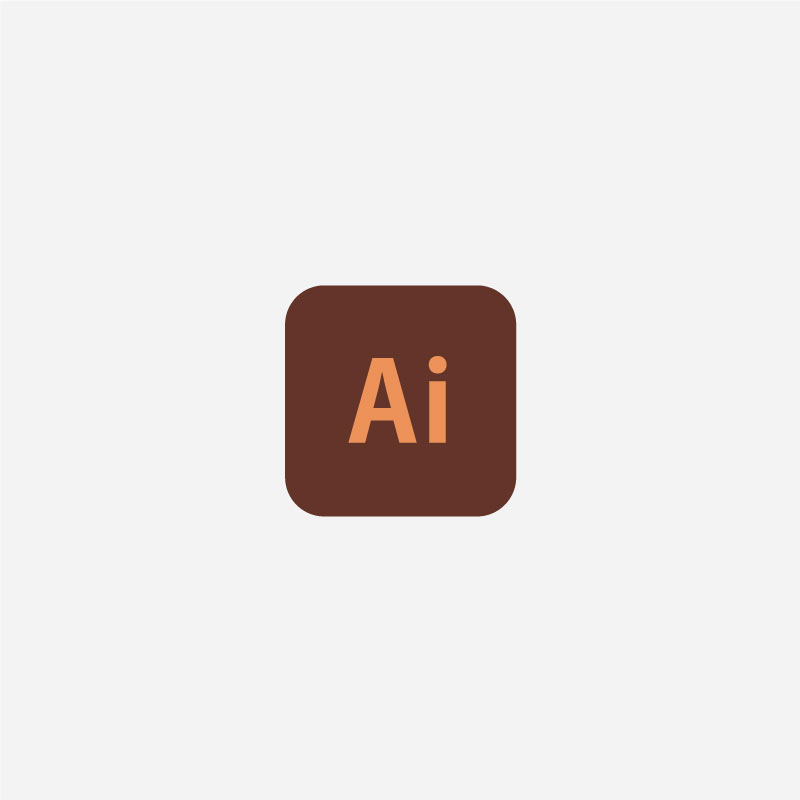 2. Submitting Finalized Data for Printing
To submit your data created in Illustrator, please download our template rst and use it.
Your data needs to be created with our templates. Thank you for your cooperation.
Price
The total cost depends on your choice; Easy Order or Finalized Data Submitting, quantity,
paper. We will be happy to provide you with a quote.
The price of "han" is cost only for the frst order. We keep your "han" for two years, and if you
order again in the term without revision, you will have a discount for its charge.
Ex.
Business card × One side Foil-printing 100pieces
-a metal plate("han") 4,400 yen(※kept for 2 years)
-pressing 3,300 yen
-papr cost 2,200 yen
-delivery cost 880 yen
Total 10,780 yen (tax included)
Flow of Order
When fixed your favorite template or design proposal,
contact us from our inquiry form.
Membership registration is necessary. Please fill out
the form.
1 Inquiry
2 Quotation
3 Payment (credit cards/ bank transfer)
4 Design ※Easy Order
5 Design Check
6 Design Finalization and Print(8 days to complete)
7 Shipping
Inquiry
When you get in touch with us, please inform us of the information below:
-the way to order; Easy Order or Finalized Data Submitting
-name of your favorite template or its URL
-quantity
-question etc.
Thank you for reading this far.
ASADAYA offers many kinds of paper items, not only business cards but envelopes etc.
We are really willing to help you have beautiful printed matters.
Whole-heartedly looking forward to having your contact.
FAQ
What is the difference between "Letterpress" and "Foil Press"?
Both letterpress and foil press use metal plates to press letters and designs. The difference is what to use for transcribing.
The former needs ink, the latter foil.
ASADAYA is a foil-printing specialty store.
Letterpress
Letters and designs are transcribed with its metal plate by ink and pressing. You will enjoy some mood of warmth from
slightly caved finishing. The process is done by a press and it costs a little high in small lots, while a little low in large.
※automatic
Foil press print
Letters and designs are transcribed with its metal plate by heating foils and pressing. You will enjoy some glitter on your
piece from metallic foils. The process is done by hand, and then it costs a little low in small lots, while a little high in large.
※manual